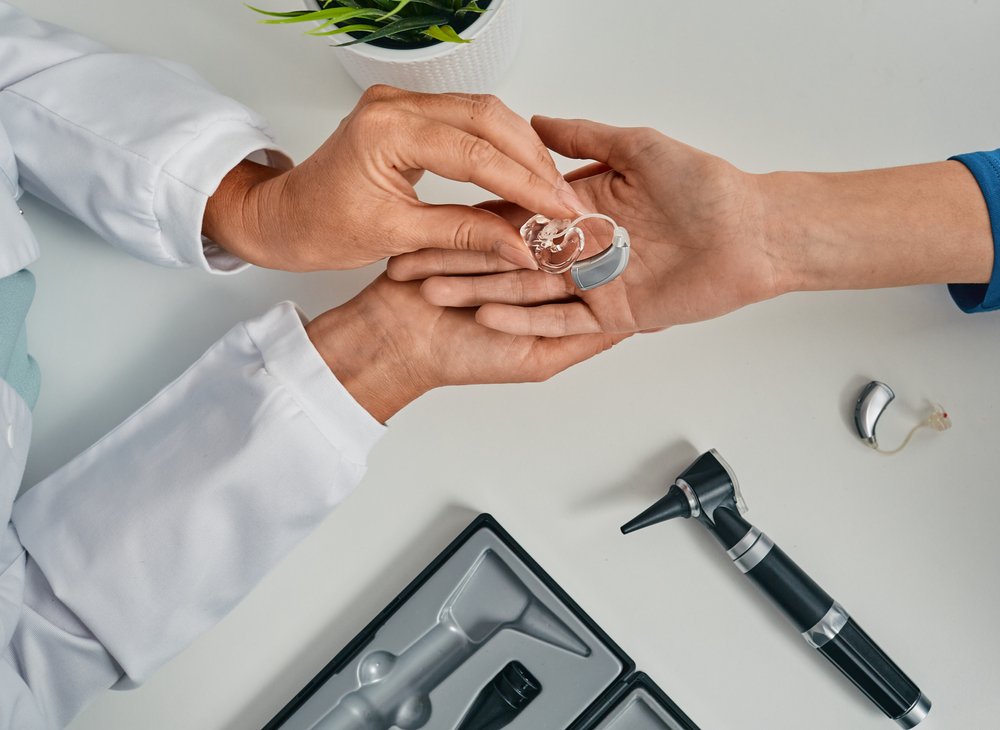 In October 2022, the United States Government and the Food and Drug Administration (FDA) released new regulations for the sale of FDA-approved over-the-counter (OTC) hearing aids. To help any of our patients who are interested in OCT hearing aids make the right choice for their needs, Hearing Unlimited is offering an online shop where patients can find reputable, high-quality devices and receive assistance from real audiologists when making their purchases.
One of Hearing Unlimited's amazing audiologists, Katelyn Hill, AuD, has shared some of her expertise with us as part of a Q&A on OTC hearing aids:
Tell us about your role as a Doctor of Audiology at Hearing Unlimited. How do you work with patients on a day-to-day basis?
On a day-to-day basis as a Doctor of Audiology, we see patients who are noticing something has changed with their hearing health. This can include sounds that need to be louder or words that are not clear, tinnitus (ringing in the ears), and dizziness/balance symptoms. We help identify the auditory problems by giving a full comprehensive hearing evaluation. We also look into other factors of overall wellness by doing a deep dive into overall health history to see if there are any correlations, as well as testing speech-in-noise and the brain's cognitive abilities. Putting all the information together, then we can interpret the results to then recommend the best course of treatment.
We do a lot of counseling so we can empower and educate our patients. Education is very important so we can provide the appropriate treatment plan and get the best possible outcomes when it comes to fitting, programming by using real ear measurements, and providing audiologic rehabilitation. We also maintain the treatment technology with quarterly service cleanings and assessing hearing to see if prescription changes are needed to ensure that our current patients are hearing as well as possible and able to live a fulfilling life.
Also, we provide services by using Telehealth for consultations and remote programming for the convenience of our patients. We complete cerumen management, as well as, and provide custom hearing protection for people that have normal hearing or hearing loss.
How does an audiologist like you help patients select and operate a hearing aid?
We do a thorough consultation to base treatment options on the degree of hearing loss, lifestyle experiences, realistic expectations, and preferences and/or experiences with hearing technology treatment.
We also do a lot of education on how to operate hearing aids. This starts with inserting the device into the ear, how to charge or change the battery, daily maintenance to keep them working correctly, going over volume control and program options, and even connecting to a smartphone to use an app for more control or to stream phone calls and music directly to the hearing devices.
There are also other devices that the hearing aid technology can connect to as well to assist with TV, landline phones, remote microphones, etc. It is all based on preferences of how the patient wants to interact with the hearing devices.
Let's talk about over-the-counter hearing aids. What does the availability of OTC hearing aids online mean for your patients? What are the pros and cons?
The new category of OTC hearing aids lets the public buy directly online or at a store without a visit to an audiologist. The use of OTC hearing aids is considered to help adults 18 years or older with perceived mild to moderate hearing loss. OTCs are self-fitting. Most use an app to help walk through the process to make things louder overall. Devices have been out for a while now but as of October 2022, they are being regulated by the FDA to ensure their safety.
It is recommended that everyone get a hearing test from an audiologist or provider before buying OTC hearing aids, although it is not required. The benefit of doing so is discovering if an OTC hearing aid device is relevant for one's hearing loss. Not all hearing loss is the same. There are red flags that are considered to need medical treatment rather than just amplification, and an audiologist can direct one in the right direction.
We know that hearing loss is a chronic degenerative disorder and the sooner it is appropriately treated the better long term. It can impact one by more than just the term "hearing" generally. Hearing loss is linked to falls, cognitive decline, and early-onset dementia to name just a few.
Having prescription hearing aids versus OTC hearing aids gives one the ability to have a more custom experience by being fitted with what is called real ear measurements to ensure that one's particular hearing loss is being amplified appropriately. Not just making things louder but really fine-tuning for each frequency that is tested. Also, the services that an audiologist can provide play a huge part in the success and satisfaction of the whole treatment plan.
What are the functional differences between an OTC hearing aid and a prescription hearing aid?
Again, it is for the use of perceived mild to moderate hearing loss. OTC hearing aids, as stated before, are self-fit devices. One does everything themself from choosing the style, fitting it to the ear correctly, and using the product's way of adjusting the loudness. An example would be included with an app for that product. There are some features to help focus the microphones in different situations.
To get prescription hearing aids, one needs to see a licensed audiologist or hearing instrument specialist. These treatment devices can fit varying degrees of hearing loss from mild to profound. The provider uses many different facets to make sure that a hearing aid is fit properly by combining the results of the hearing test, speech-in-noise testing, cognitive well-being, as well as real ear measurement testing to ensure that the prescriptive hearing aids are set correctly.
Prescription hearing aids have many automatic features and can also be set up to have specific programs set up. The licensed provider is available to walk one through the whole setup from start to finish and give ongoing care and services.
What is the role of audiologists in helping patients with OTC hearing aids rather than prescription hearing aids? Do you need an audiologist's help when going OTC?
It is recommended to have a thorough hearing test by a licensed provider to make sure that an OTC is appropriate for one's hearing loss, but it is not mandatory. In doing so, a provider can monitor hearing loss over time to see if an OTC device is still appropriate for the loss or if any of the FDA red flags appear.
The OTC hearing aids are set up so there is no need for an audiologist to fit them. However, all devices are susceptible to wax, debris, and moisture and that is when the care and services of an audiologist can be most helpful.
Tell us about Hearing Unlimited's online OTC shop. Why should patients choose their device from Hearing Unlimited?
Hearing Unlimited has vetted different types of OTC hearing aids to help one know that they are getting reliable devices. We do not want people purchasing something that does not have the research and name to back it up. The products we have chosen have warranties and return policies.
Hearing Unlimited also offers the ability to talk to a provider via telehealth if one chooses to and come in for services if something does not go as planned. Or, there is still the "grab and go" online ordering where one does not have to see us at all. We wanted to make sure that people are confident in the choice that they make when it comes to their hearing healthcare.
What is something you want every person to know before they buy an OTC device?
Not all hearing loss is the same. OTC hearing aids and prescriptive hearing aids are not the same. OTC hearing aids may work for some and not others.
No matter what, we want people to know that Hearing Unlimited can be their trusted hearing health and wellness practice to assist in any avenue to improve their quality of life in hearing the precious sounds and conversations around them.
Get Started With Hearing Unlimited
If you're ready to find out more about OTC hearing aids or schedule a hearing test, contact Hearing Unlimited today. We can't wait to help you find the perfect device for your needs! We're also happy to answer any of your questions and help you find the best solution for you.
Ready to hear with clarity and improve your quality of life? Schedule your first consultation with Hearing Unlimited today!