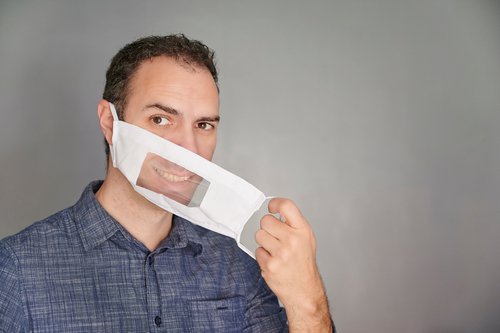 Pennsylvania is one of many states in the U.S. imposing mandatory face mask requirements for entering public spaces. While face masks are a vital safety measure that can significantly reduce the spread of COVID-19, they can also make life more difficult for those with hearing loss in a number of ways.
The team at Hearing Unlimited wants to empower our patients with the knowledge they need to navigate the world of face masks while staying healthy and cared-for. We also seek to educate those who meet and care for patients with hearing loss so that they may accommodate those around them. Here are several things to be aware of regarding face masks and their impact on the hearing impaired:
Lip-Reading Difficulties
While many essential workers have been wearing personal protective equipment (PPE) for a few months now, this practice has now become commonplace for most people who are stepping out into the public. While some of this equipment is transparent, most people have not adopted these materials or find them inaccessible. Unfortunately, opaque masks may block mouths and muffle speech, making communication all the more difficult for those with hearing loss (especially those who read lips). 
If your ability to communicate is being hindered by someone's mask, please do not hesitate to self-advocate: ask the person to move to a location with less background noise, or one that is quieter. You can also ask the person to speak more slowly, speak softer, or speak louder, depending on your needs. 
Hearing Aid Discomfort and Damage
When it comes to logistics and comfort, hearing aids tend to monopolize the space behind your ears, making it difficult to wear anything over your face. As a result, hearing specialists everywhere are seeing damage come to patients' hearing aids as a result of their face masks, sometimes even in the parking lot of the audiologist's office. Please practice caution when you remove your mask, making sure your hearing aid is as secure as possible. 
Even if your hearing aid isn't sustaining damage, you may be experiencing some discomfort when trying to wear a device at the same time as your mask. Some people are even opting to remove their device so that they can protect their face. While preventing the spread of COVID-19 is important, we strongly discourage patients from choosing to compromise their hearing for any reason. If you need to refit your hearing aid to be more secure or fit more comfortably, now is the time to schedule an appointment and do so!
Missed Audiology Appointments 
We urge all patients with hearing loss to understand that their audiologist's services are essential. When the health of your hearing is linked to so manyother aspects of your body's wellness, it remains imperative to continue with your regularly-scheduled hearing appointments and stay in close contact with your audiologist. In fact, the previously-mentioned circumstances surrounding face masks may actually warrant even closer communication with the professionals who care for your hearing. Protecting your hearing is a part of maintaining your total wellness, which enables your body to fight infections such as COVID-19. 
If you have questions or need support while coping during this time, your audiologist should be a resource you count on for help. If your current audiologist has made the difficult decision to close their doors, call Hearing Unlimited. Although we are closed to walk-ins, we are open for normal hours of operation, and we are following strict protocols to keep our environment safe while we continue to serve our patients.
The audiologists at Hearing Unlimited have the expertise to help you maintain your hearing health during this crucial time. Get your healthy hearing plan started today - contact us online or by phone to schedule an appointment, and be sure to take advantage of our services and resources.