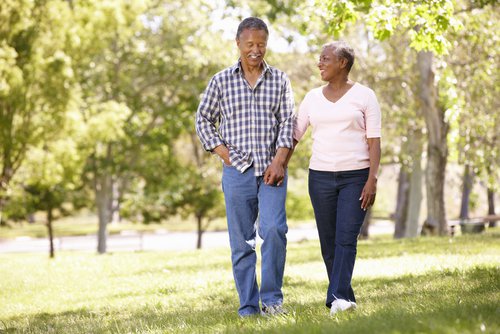 In last month's blog, we discussed the correlation between hearing loss and the frighteningly high rate of falls in older patients. The statistics are alarming, especially when one considers the mortality rate of older people who take a fall. However, these falls are preventable, and a vigilant approach to hearing care can help protect you and your loved one.
At Hearing Unlimited, we want to equip our patients with the knowledge to prevent and monitor hearing loss with the goal of reducing their risk of a fall. Here are three ways you and your loved one can work toward a prevention plan:
Keep Your Mind Sharp
Maintaining a sharp mind and a bustling social life can become difficult as we age, when limitations on mobility enter our lives and finding time to meet with friends become more difficult. Unfortunately, your risk of hearing loss and taking a fall also increases with age -- that's why it's essential to protect your hearing by stimulating your brain regularly. Isolation can cause parts of your brain to deteriorate with disuse, contributing to hearing loss and making you more vulnerable to falls. 
If you're already having difficulty getting from place to place, don't put yourself at risk by overexerting your body: reach out for help, initiate visits, and let your friends and loved ones know how important it is that you remain cognitively alert and connected to others.
Schedule a Hearing Aid Fitting
If you're already living with some degree of hearing loss, it's definitely time to visit the audiologist and ask to be fitted for a hearing aid. Hearing aids are one of the best options for accommodating hearing loss and improving balance, both of which can help you or your loved one avoid a fall. 
While it may be tempting to go online and buy a hearing aid yourself, it's always best to consult a hearing specialist. That way, you can be sure that you or your family member's hearing aid fits properly, and that you're choosing the best option for your specific needs. 
Communicate With Your Audiologist
Your audiology specialist is your greatest resource for staying on top of hearing loss, especially as you and your loved ones age. Regular examinations are essential to detecting any deterioration in your ears as early as possible, and being proactive is the most important step to preventing a potentially deadly fall. If you already have a hearing aid, you should still be visiting your specialist regularly to be sure your device is working properly and in perfect condition.
If your current audiologist has made the difficult decision to close their doors, call Hearing Unlimited. Although we are closed to walk-ins, we are open for normal hours of operation, and we are following strict protocols to keep our environment safe while we continue to serve our patients.
The audiologists at Hearing Unlimited have the expertise to help you maintain your hearing health and prevent injury during this crucial time. Get your healthy hearing plan started today - contact us online or by phone to schedule an appointment, and be sure to take advantage of our services and resources.