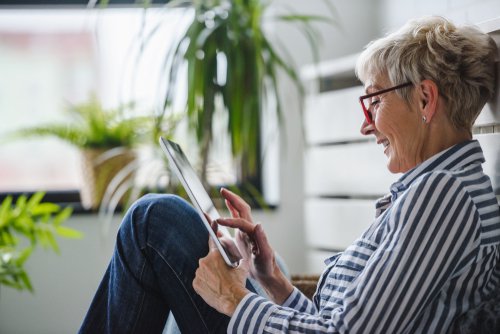 In last month's blog, we discussed how dementia and hearing loss are related, forming a cycle of decline in both areas that can make each condition progressively worse. While this is a frightening prospect for many patients, especially those who are aging, it's far from the end of the conversation surrounding hearing loss and cognitive decline.
At Hearing Unlimited, we want our patients to know that hearing loss and cognitive decline are not unavoidable aspects of aging, but conditions that can be prevented and managed by taking the appropriate measures as soon as possible. Here are four steps you can take toward introducing these preventative measures into your life now:
 1. Keep Up an Active Lifestyle
Dementia has a tangible impact on the way oxygen is able to flow through your brain, affecting the way glucose -- the type of sugar our bodies process into energy -- is distributed and utilized. When your brain is deprived of oxygen, your nerve cells can begin to die; this can ultimately result in a decrease in your brain's ability to process messages and function cognitively. One of the best ways you can prevent this phenomenon and keep oxygen flowing effectively through your brain is performing regular cardiovascular exercises. If you struggle with mobility, this may seem like a tall order, but there are still plenty of ways you can work out your heart while staying gentle with your body. 
2. Try a Brain-Healthy Diet
Healthy eating is a great idea for maintaining your wellness in general, but there are certain foods that are particularly beneficial for your cognitive function, promoting concentration and a stronger memory. When taking preventative measures against dementia, try to incorporate as many of these foods into your diet as you can:
Citrus fruits, especially oranges
Fatty fish, such as salmon, trout and tuna
Pumpkin seeds
Blueberries
Your daily cup of coffee could even be helping you keep your brain functioning at full capacity -- just be sure to practice moderation!
3. Don't Become Socially Isolated
With the COVID-19 pandemic limiting our ability to spend time with others face-to-face, you may be finding it difficult to be social these days. This is especially true if you're already struggling with frustrating factors like hearing loss or loss of mobility, both of which can affect your ability to communicate. That said, we cannot stress enough how important it is for your cognitive health to stay engaged, especially as you get older. The current conditions due to COVID-19 may actually pose new opportunities to communicate with your friends and loved ones using more accessible means. If you're not particularly tech savvy, reach out to a family member and ask them to help you get connected on the Internet -- learning new skills is also great for your brain!
4. Visit Your Audiologist Regularly 
As we discussed in our previous blog, hearing loss and cognitive decline can fold into each other in a vicious cycle that leaves your brain vulnerable to dementia. That's why it's vital to recognize that your hearing health is just as important to maintain as the health of any other area of your body, and that your appointments with your audiologist should be prioritized just as much as your other preventative care. If you're already struggling with hearing loss, your audiologist can help you find the perfect hearing aid and ensure that it fits your ear. If you've been fitted with a hearing aid, it's equally important to check in with the audiologist to make sure your device is working properly.
The audiologists at Hearing Unlimited want all of our patients and their families to understand the correlation between dementia and hearing loss so that they can begin to introduce these preventative measures into their lives sooner rather than later. If you have more questions about hearing loss's connection to dementia, or you'd like to schedule your first visit, don't hesitate -- reach out to us and schedule an appointment today.
If your current audiologist has made the difficult decision to close their doors, call Hearing Unlimited. Although we are closed to walk-ins, we are open for normal hours of operation, and we are following strict protocols to keep our environment safe while we continue to serve our patients.
The audiologists at Hearing Unlimited have the expertise to help you maintain your hearing health and prevent injury during this crucial time. Get your healthy hearing plan started today - contact us online or by phone to schedule an appointment, and be sure to take advantage of our services and resources.