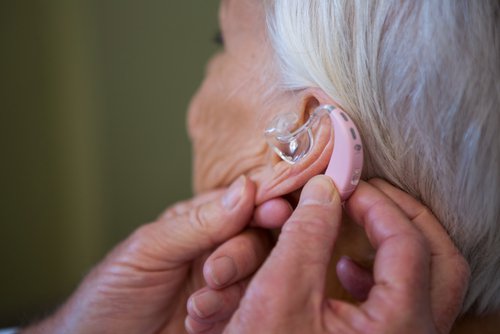 In last month's blog, we discussed how hearing loss and cognitive decline are related, and when left unaddressed, can eventually become a vicious cycle in which each condition becomes worsened by the other. This month, we're looking at the positive side of this conversation, which is that hearing loss and cognitive decline are both preventable. One of the best tools for stopping hearing loss in its tracks and maintaining healthy hearing as we age is one you've almost certainly heard of: the hearing aid.
At Hearing Unlimited, we want our patients to know that being fitted with a proper hearing aid can make all the difference in maintaining the health of both your hearing and your cognitive function. Here's how:
You'll Be Able to Use Your Hearing
As we've previously discussed, studies show that a patient suffering from hearing loss allocates greater cognitive resources when perceiving the sounds around them. Unfortunately, this comes at a price -- when your brain works overtime, other cognitive processes become neglected, especially the working memory you need to maintain strong cognitive function as you age. In fact, some experts even believe that when hearing loss is left untreated, the lack of auditory input can affect the neural networks involved in certain cognitive abilities, leading directly to the degeneration of the brain. When you're fitted with a hearing aid that properly addresses the hearing components you're missing, your risk of overworking your brain becomes astronomically lower due to the fact that your auditory processing has improved.
Your Brain Itself Will Benefit
In addition to simply improving your hearing, some studies suggest that hearing aids can actually help to compensate for cognitive impairments. When patients have been evaluated after being fitted with a hearing aid, it turns out that hearing aid use often provides an immediate effect on mental function by improving audibility and decreasing the cognitive load of the listening task. Getting the hearing support you need can also improve your mood, increase social interactions, and enable participation in cognitively stimulating abilities, all of which can help prevent mental health struggles, and ultimately lower your risk for cognitive decline.
Your Audiologist Will Be Aware of Your Needs
The simple act of visiting a specialized Pittsburgh audiologist can greatly reduce your risk of both hearing loss and cognitive decline as you age. When you make an appointment with the audiologist, you're entering a relationship with a professional who will monitor and address the state of your hearing, not just during your hearing aid fitting, but throughout the rest of your life. In addition to frequent monitoring, your audiologist can also keep track of how your hearing aid is working, ensuring that your device is clean, functioning properly, and meeting all of your needs. Should you require an adjustment, a repair, or a fresh battery, your audiologist has you covered as part of your routine care.
Unfortunately, fewer than 30% of adults aged 70 and older with hearing loss who could benefit from hearing aids have actually been fitted for a device. When the stakes are as high as preventing cognitive decline, this figure needs to change! If you or someone you love is experiencing the beginning stages of hearing loss, don't wait. Schedule an appointment with the team at Hearing Unlimited to be fitted with the perfect hearing aid for you!
If your current audiologist has made the difficult decision to close their doors, call Hearing Unlimited. Although we are closed to walk-ins, we are open for normal hours of operation, and we are following strict protocols to keep our environment safe while we continue to serve our patients.

The audiologists at Hearing Unlimited have the expertise to help you maintain your hearing health and prevent injury during this crucial time. Get your healthy hearing plan started today - contact us online or by phone to schedule an appointment, and be sure to take advantage of our services and resources.